Reel Belize Procedure
Reel Belize recognizes that COVID-19 has changed our policies and procedures for our trips, schools and foreign travel. Please review our updated policy. This policy is dynamic in that we will keep it current as conditions change. We would like to thank our valued fly fishing friends for supporting our business and team members during these peculiar times.
We want to ensure to you, our angling guests, that we are doing as much as we can to create a safe and responsible experience for you. We become partners in our traveling fun. Adventurous anglers will be responsible for their health and Reel Belize will provide the very best environment to support our angling guests on any of our Reel Belize outings.
We are constantly working with both our fishing directors and guide staff to keep them up to date on policies and procedures regarding COVID-19. As cases are monitored each state and country offers their own law. Our website will stay current for any state closures or boundary closure for international travel. Please review our Global Rescue page and their links which addresses these concerns.
While traveling with a guide or shuttle driver:
Face masks are required.
Sanitize upon entering and exiting the vehicle.
All vehicles are cleaned throughout the day with higher use areas being wiped down more frequently.
Guides are cleaning boats daily and have hand sanitizer available both in their vehicles as well as their boats.
While with Saltwater Guides in Belize:
Belize Tourism Board recognizes the new Gold Standard* for all Belize Tour Operators and Hotel/Lodge accommodations. Gold Standard guidelines will be the new standard for how tour guides practice safe guiding.
Face masks are required while in the boat and fishing. Masks may be removed for food and water.
Hand sanitizer will be available from every guide in addition to a complete first aid kit carried at all times.
Only the guide will be allowed in and out of the cooler. Please be responsible for your own water bottle – asking for fresh refills.
Boats are required to be throughly cleaned at the end of each day and to be maintained throughout the day of fishing.
Guides will remain responsible for terminal tackle – and use of any equipment needed. However, guides will teach without close contact with angling guest.
Lori-Ann Murphy owns Reel Belize and the tour operator  is currently being processed for Gold Standard recognition. We expect the list of Gold Standard tour operators to be updated any day.
Belize International Airport opened October 1, 2020. Please refer to the following link for current information on customs processing, the Belize tourism app, the steps Belize has taken to ensure safety while you are here and other travel updates.
https://belizetourismboard.org/news-and-gallery/belize-covid-19-update/
Lodge/Hosted Trips:
A private chef is hired for all schools or trips. Only the chef is allowed in the kitchen. There will be an orientation for each place from the fishing director for that trip. Some schools and trips will have food delivered, some will be in house.
All lodging is designed with space and safety in mind. See the specific school to trip for details.
Trip Cancellation Policy Modifications
Our cancellation policy has changed as a result of COVID-19. Those who are unable to travel due to stay at home orders, flight cancellations due to COVID-19, are concerned for their well-being or have become sick will be given the option of rebooking with a mutually agreed upon future trip or school for up to three years. This policy is valid for the remainder of 2020 and also 2021.
We are incredibly grateful for our angling guests and hope to see you all on one of our trips or schools this upcoming season. However, the safety of our staff and community is most important during these times. If anyone has any issues regarding these procedures please do not hesitate to reach out to us.
All the best,
Lori-Ann and The Reel Belize Team
Standard Reel Belize Policies
Deposits & Cancellations:
A 50% deposit is required to hold both space and guides on all packages. No space or guide will be held without receipt of deposit. Full pre-payment is due at Reel Belize 90 days prior to arrival.
Covid-19 Option: At this time a 25% deposit is an option for those wanting to secure their place with the balance due 90 days prior to arrival.
In the event of cancellation your full deposit will be applied for any future Reel Belize trip or school within three years. It is also transferable to another person for up to three years. Every attempt will be made to find another Reel Belize special fly-fishing experience for you.
Terms & Conditions:
Changes by Reel Belize
It is the intention of Reel Belize to operate all trips and schools as advertised. The paying customer agrees to all terms and conditions of Reel Belize as a contract of acceptance. Reel Belize reserves the right at any time to cancel or change any of the facilities, services or prices described on our website and to substitute alternative arrangements of comparable monetary value.
Reel Belize will cancel the charter if it is unsafe to go out due to weather. In this case, a full refund will be credited.
Reel Belize reserves the right to determine who travels or participates in all Reel Belize schools and trips based on health conditions of participant. If you are contagious you may not attend.
All angling guests will provide Reel Belize with any known allergies or special medical conditions. All angling guests agree to these conditions. Failure to notify Reel Belize of any allergy or medical condition is a breach of this contract.
Changes by our Angling Guests:
Any changes to the original booking must be confirmed in writing by the person signing the booking form and must be accompanied by an administration fee of $100 US per booking in addition to any other costs the company, Reel Belize may incur. Cancellation's will be honored with rescheduling a new date within three years.
Bad Weather Days:
On bad weather days we still fish as long as it is safe. It's up to the angling guest to decide if they can handle the conditions. Reel Belize will reschedule during your stay if there is guide availability.
Angling guests are exposed to weather as they fish. We ask anglers to be prepared with brimmed hats, sunscreen, and a strong rain jacket for saltwater conditions.  These items are noted with our pre-trip packing list provided upon deposit.
All angling guests agree that there will be elements of sun, wind and rain exposure and that they can handle these conditions. If at any time the angling guest requires special attention it is up to the guest to communicate this to the guide.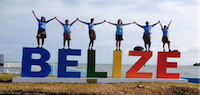 The vision of Ocean Academy is to create an environment where students are welcome to come and learn, regardless of their previous academic achievement or socioeconomic status.