Ghosts of the Flats!
Bonefish School
Dates:
April 24-28, 2021
May 1-5, 2021
Price:
$1995 double occupancy
$2395 single occupancy
San Pedro, Belize is a great little hideaway to expand your fly fishing skills. Join us for three action packed days with Lori-Ann Murphy and her Reel Belize team learning and upping your game! A dream destination for Bonefish and all of the other saltwater species. This package puts you on the water during the day and by the pool overlooking the Caribbean at the end of your day. You'll also have the chance to check out San Pedro and other activities after fishing each day. Four nights, one clinic day on the water and two days guided fishing with one shared angler. The package includes transportation from the San Pedro airport to the lodging and all fly fishing equipment. If you have a 6, 7 or 8 weight that you like please bring them. You will leave with skills and knowledge that will stay with you for the rest of your fly fishing adventures!
Pelican Reef Villias offers nothing but the best in relaxation and services. After a hard day on the flats you'll be ready to enjoy the pool bar, beach hammocks or lounge chairs near the pool. If you'd like to keep exploring, take a dip off of the 350 foot pier, grab paddleboards, sea kayaks or bikes to explore the ocean or San Pedro itself; all included in your package. Wireless internet is included and the team can assist with any print/copy/fax needs if you must do some work.
Reel Belize Fishing Adventures accommodates our guests in the two or three bedroom suites at Pelican Reef. You'll have your own room and bathroom but share a common kitchen and sitting area.
Before departure each day you'll choose a breakfast entrée from the Nest Grill. Lunch will be packed and ready for you on the water. At dinner, our chefs, Delcia and Norma will be in daily to cook and serve Belizian style dinners. Rum and beer is provided. If you prefer wine or hard alcohol we can make arrangements for any requested items you'd like to purchase.
Fly into Belize City and take a short 16 minute flight to San Pedro. We'll pick you up at the airport and take care of everything from there. Flights are offered by Tropic Air and Maya Island Air between Belize City and San Pedro.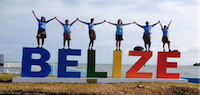 The vision of Ocean Academy is to create an environment where students are welcome to come and learn, regardless of their previous academic achievement or socioeconomic status.